This announcement was just the first out of a 3 phase announcement.
Phase one was today – September 23rd, 2019
Phase two -At FunnelHackingLive January 31st, 2020. Phase three – Russell's 40th birthday March 8th, 2020.

The future of Clickfunnels:
Doubling down on being the category king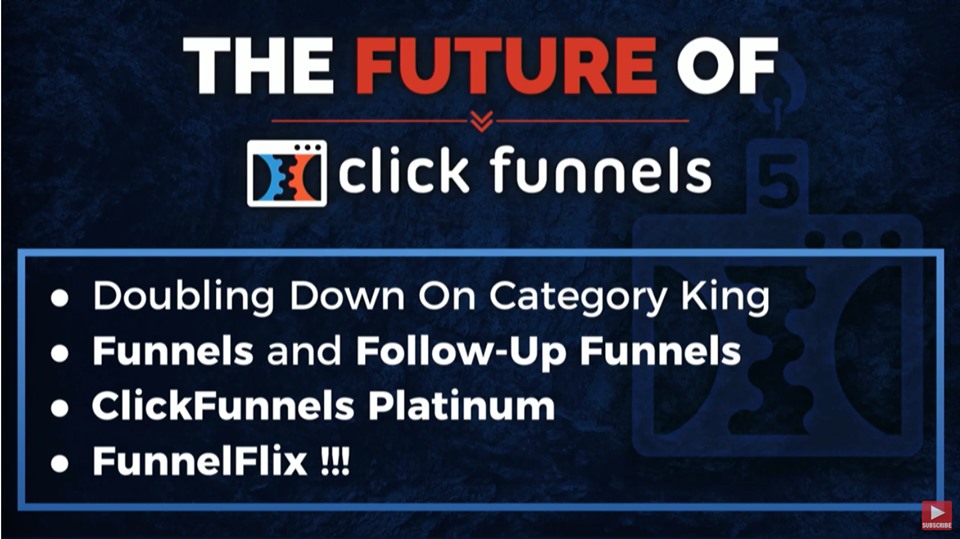 The category king is a concept Russell learned from the book 'Play Bigger'
It is explained by Russell as following:
Every business industry has its own category king that owns/sells about 90% of the market.
Think of giants like Apple, Netflix, Google, etc. They are all category kings and the best at what they do.

Clickfunnels grew big because they were the category kings of sales funnels.

Now, 2 years ago Russell made a mistake
They were trying to hard to be good at everything.
What they're doing now instead is doubling down on being the category king of Sales Funnels.
That means some changes are coming.
Somee features will be "sunsetted"Meaning, they will slowly fade away.
New users will not have access to them, while existing users will still have access to them.
Example, Actionetics. The word Actionetics is going away, they will change the name to "Follow Up Funnels".
Clickfunnels will now be focusing more on being the category king of sales funnels so you will see more of "integrate with… program" in the future.
So Clickfunnels will be focusing more on partnerships with category kings.
And they need our help. Which ones?!
Make your voice heard in the comment section below?

Support upgrades
There will be a chance for us as users to earn money from this as well. We can now apply to work part-time at the CF support team.
A lot of you guys are already being helpful and answering questions here in the FB group, so this will be a chance to make some money while doing it.
You can apply at: http://clickfunnels.directly.com/apply

NEW Platinum Version of CLICKFUNNELS
CF Platinum – $697/month (Birthday discount below)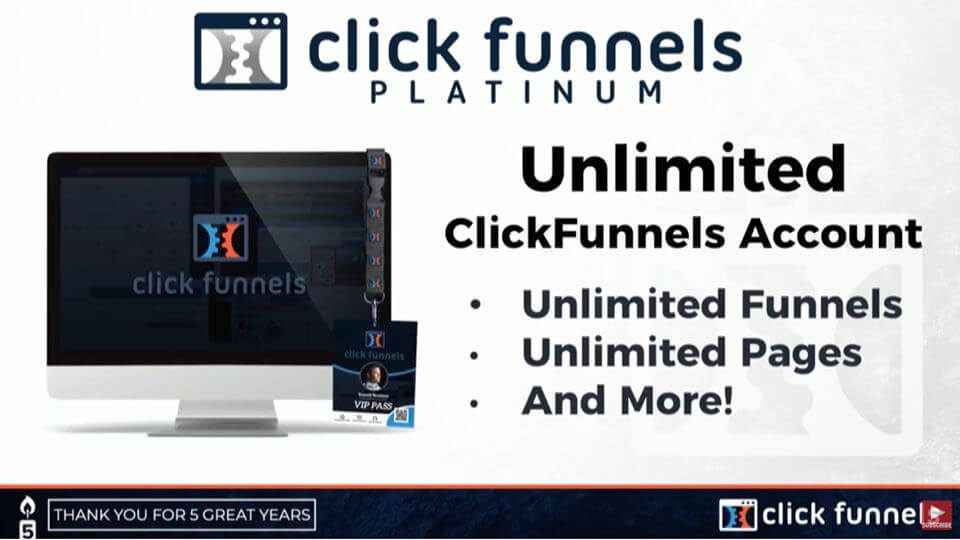 Clickfunnels are launching a whole new tier, just like the $97/month plan & $297/month plan, the ladder is going away.
If you are currently a $297/month plan user you will automatically be upgraded to the new Platinum tier without any additional cost.
If you are a $97/month plan user you can upgrade to the Platinum tier for a discounted price of $297/month at: http://upgradenow.com

What you will get inside the Platinum tier of clickfunnels:
Clickfunnels Unlimited ($297/mo value)Follow Up Funnels Unlimited ($297/mo value).
New Daily Virtual Hack-A-Thon (Only $25k membersNew Funnel Hacker Forum (Priceless)New FunnelFlix membership (INSANE VALUE)

So what are the new things I mention?

Daily Virtual Hack-A-Thon
These will be live summits where you learn how to build specific funnel types.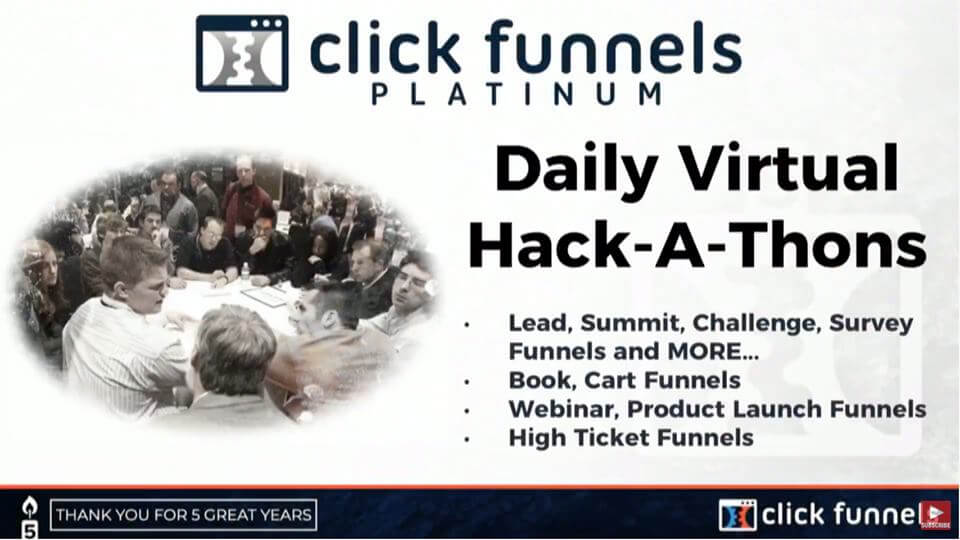 So if you are looking to create a lead funnel… there will be a scheduled day to learn that If you're looking to create a webinar funnel… there will be a scheduled day to learn that…
And so on… you get the point. I think this is absolutely terrific myself.
Different Hack-A-Thons each day with different funnel types.

Funnel Hacker Forum
There's a new funnel hacker forum for all CF users!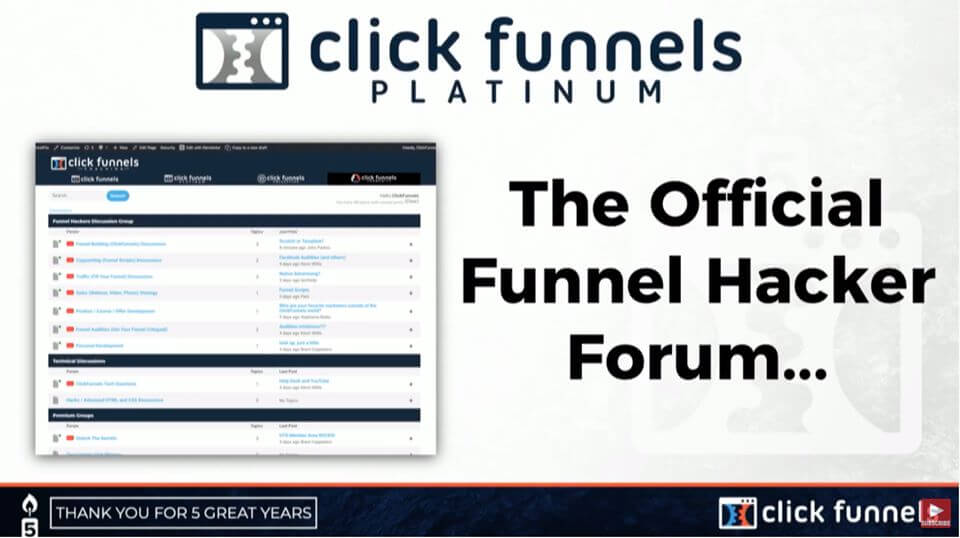 This group is a great place to ask questions but there are over 200k members in here and "only" 95k paying CF users.
Meaning, there are a lot of people here who don't believe in CF or who won't be supportive.
Inside of the new FH Forum, you will only be greeted by paying die-hard CF users. So ask away!
You can be more vulnurable inside of this forum rather than in a FB group like this.

The Game Changer – FunnelFlix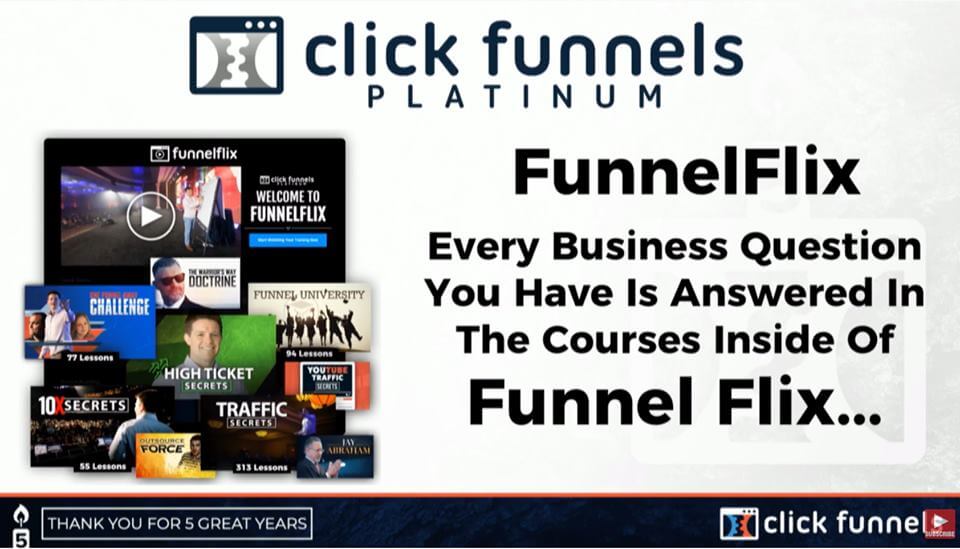 No wonder Russell saved this for last…
Think of it like Netflix… but for your funnel business.
Inside of this membership that all current $297/mo plan users have access to you can find courses of basically everything you need.
From building funnels, to money mindset, to personal development and much more.
Here's a summary of the courses Russell announced we have access to as of right now as Platinum users:

Get started – 2 Comma club winners explain how to get started
Affiliate Bootcamp – Get started with affiliate marketing from scratch
Tony Robbins – Personal development, his collection of all the best.
Ad Skills From Justin Brooke – Licensed and bought from Justin.
Money Mindset with John Reese – Get the right mindset to start earning money.
FunnelHacker TV – Documentaries etc, more chill rather than educational.
10X Documentary – Watch Russell fail on stage.
FunnelBuilderSecrets – Sold for over $3000 in the past 3 years. Everything about funnel building.
Product Secrets – Learn how to create a product in a weekend
Outsource Force with John Reese – Learn how to outsource your business so you can have more time to do what you want.
Funnel University – For the past 3 years CF staff has funnel hacked 2 people each week. All 3 years worth of content is available.
The Warriors Way With Garrett J White – Most training inside of Garrett's platinum offer.
One Funnel Away Challenge – All past videos from one of the most loved online courses ever.
Funnel Hackathon – An event that cost $10k to be at. This is all the training and videos from that event.
Traffic Secrets from John Reese – Everything you need to know about running traffic.
Coming soon – Course Secrets.
More course to be updated as time goes by – Just like Netflix does with movies/shows.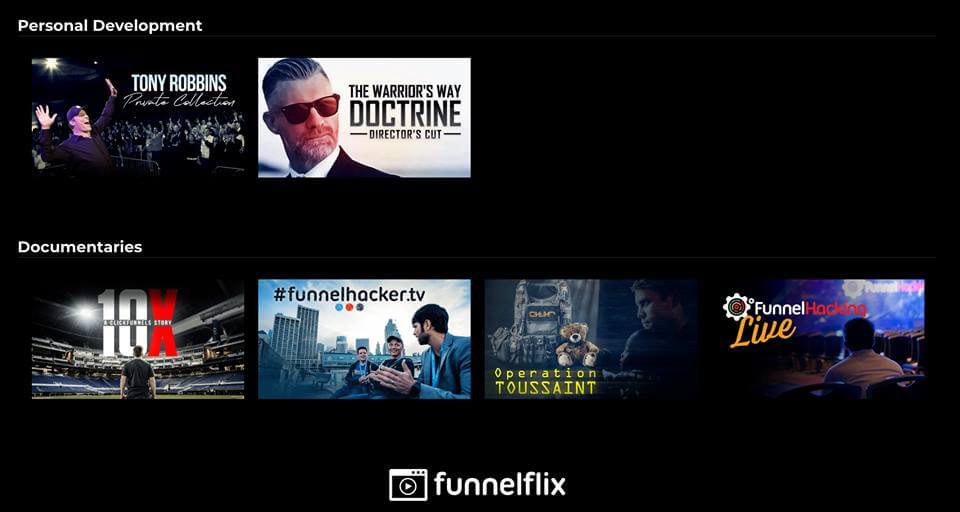 A lot of content to be found inside of FunnelFlix as you can see…
Most people spend thousands on different courses and jump from course to course.
Inside of FunnelFlix you will have access to ALL of these.

A short summary of the future of Clickfunnels
Doubling down on being the category king of funnels and Follow Up Funnels
Clickfunnels Platinum
FunnelFlix
So just to remind you, this is the first out of three announcements they will be making.
And for all of you on the $297/mo plan you will have instant access to all of these new features already. It should be updated inside of your CF account now.
For those of you on the $97/mo plan you can upgrade at http://upgradenow.com for only $297/mo instead of the full price which is $697/mo.
That's everything from Clickfunnels 5 year announcement! Happy birthday ClickFunnels!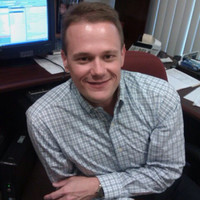 Expert in planning, organizing, and managing resources to successfully complete project goals and objectives, while honoring predetermined constraints in sales funnels.
Summary
Reviewer
Review Date
Reviewed Item
Author Rating